Comrade, which is the name I gave the gray kitten that's been roaming around, is Pepper's sort-of boyfriend from afar. They watch each other through the windows and size each other up. She's absolutely fascinated with him.
Tonight he smelled the delicious barbecue chicken Justin made for dinner and decided to hop up on a windowsill and beg. Since the windows were cracked a tiny bit (screens on), he and Pepper got a closer encounter than usual.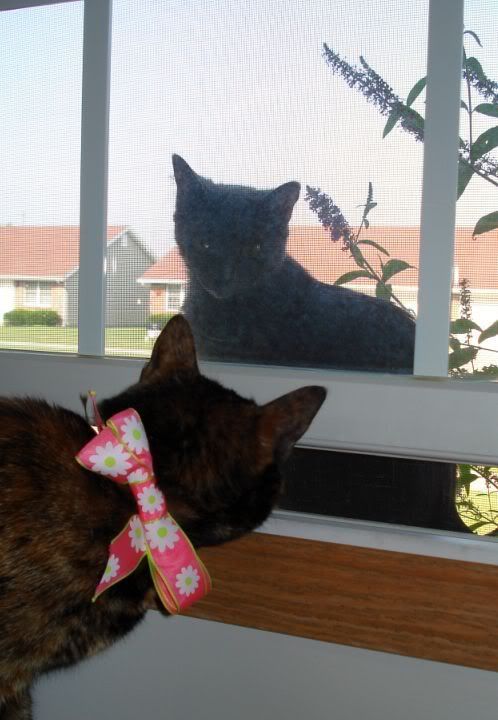 He's a really beautiful cat, smoke-gray with penetrating yellow eyes. It's no wonder she's infatuated.
Pepper had a very conflicted response to his sudden close appearance. Make friends, or try to defend her turf? The matter was swiftly decided when, for whatever reason, Comrade felt threatened and took a yowling swipe at her from the other side of the screen. She ducked into Justin's arms and that was it for the encounter.
After he left, Pepper suddenly found her guts again and decided she wanted to fight him. She got all worked-up and alert, but of course it was too late. He's getting bolder...I'm half afraid one of these days I'm going to open the door and he'll stroll right in. Their dog did that once.