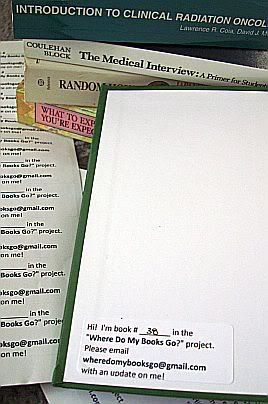 ...have been labeled, cleaned and are ready to be distributed (dropped off at various thrift stores).
I had to think for a while about what I was going to put on the labels. The first prototype was too chatty and said too much about me wanting to know what happened to the books. It made me sound as if I hadn't fully resigned myself to letting the books belong to someone else. I'm trying really hard for that not to be true ;)
I figured that people would be more cooperative if it was seen as a "project" (ideally, "THE project", implying the collaboration of everyone) and not just one woman's idle curiosity. It also leaves room for the project to be expanded, if it comes to that.
I would have dearly loved to have a website all ready for people to log their own information, but I just haven't gotten that far. I'll save any info from emails and use that to help build the database. And if anyone chooses to respond with just the number, I have the numbers all logged (by my own aching hand) in a notebook.
In other news, I'm going to go back to the neuro next month. My neck-and-base-of-skull situation has been getting weirder and I'm beginning to wonder if maybe the violent muscle spasms somehow pulled something loose. I fully admit I have no idea what's going on in there anymore.